How to choose the right Cricket bat...
Finding the right-sized cricket bat is important when playing the game. When selecting a cricket bat, it's crucial that you pick one that is the correct size for the player. If it's too small or too big, batting will be uncomfortable and performance will be compromised. Keep reading to find out how to find the right Cricket bat for you!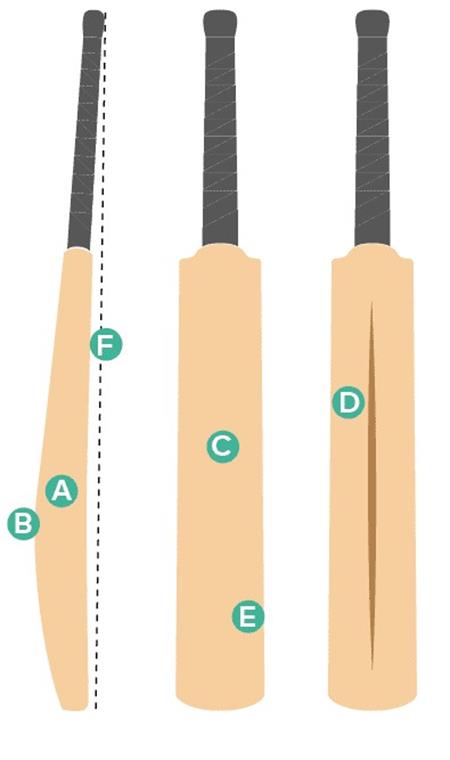 A - EDGE PROFILE
Massive 'Big Edge' profile which increases from the shoulders and maximises at the sweet spot, generating supreme balance with an extended sweet spot that covers the entire width of the blade. 
B - SPINE PROFILE
The spine of the bat operates in unison with the 'Big Edge' profile of the bat – creating a huge apex, with unrivalled amounts of power throughout the length of the blade and exceptional 'pick up'.
C - SWEET SPOT
The position in the blade where performance is maximised. Look for a bat with a larger sweet spot, allows the middle of the bat to be spread further across the blade meaning that off-centre strikes perform better.
D - SCALLOP
In the quest to maximise profile, using scallops either side of the spine allow the apex to be extended without dramatically increasing weight. Scallops also maximise edge profile which reduces rotation of the blade in off-centre hits, minimising power loss.
E - FACE PROFILE
The modern game revolves around the thickness of the blade:
1) Flat Face - levelling out the striking area allows more mass to be retained in the back of the bat, maximising the power profile.
2) Rounded Face – favoured by more traditional players, the slightly rounded face gives a familiar look but yields a less expanded profile.
F - BOW
The curve of the bat from the tip of the handle to the end of the toe. Designed to enhance the position of the hands by placing them ahead of the ball, which is essential for good stroke play.
What size cricket bat should I use?
Its recommended that children check the size of their bats at the beginning of each season or when buying a new bat that they're bat size is still correct or if they need to go up to the next bat size.
When choosing a new bat its important to choose a bat that is the right size and correct weight for the player. Playing with a bat that is too big or too heavy or light will affect the player's performance and enjoyment of the game