Tri-Golf is a fun and energetic version of golf that is perfect for Primary Schools and young aspiring golfers as they hit targets with their first golf shots. Tri-Golf is a genuinely inclusive sport as it suits players of all abilities, which is great for Schools to incorporate it into their lessons. Every child can succeed in the games and with the flexibility between individual play and team interaction, it engages well with youngsters who might not want to play a traditional team sport.
Tri-Golf promotes 'Skills for Life' attributes including co-operation, good sportsmanship and concentration and is designed to be used across curriculum learning. It is being used by several Golf Clubs across UK to help teach young players the aspects of the game, and how sport can be positive in their lives.
At Davies Sports, we have specially designed Tri-Golf equipment for all types of players. These have proved to be very popular with youngsters, affordable for schools, Leisure Centres and Golf Clubs, and easy for teachers to use. There is specific equipment for right and left-handed players, as well as disability players. Resources giving ideas for games and activities linked to the National Curriculum have been produced and we will be sharing a few of them in future lesson blogs.
To further assist Schools, Leisure Centres and Clubs, we have partnered with The Golf Foundation, who can provide 2-hour training workshops. The workshops are practical, fun and very affordable, allowing places to create solid infrastructures to keep golf going for long periods.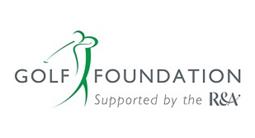 Who Are The Golf Foundation?
The Golf Foundation is a registered British charity established in 1952 with the aim of providing life changing opportunities to young people using the power of Golf. They help young people to 'Start, Learn and Stay' in golf by making their introduction to the game fun, innovative, inspiring and enriching. They take versions of the game into schools, gold centres and community groups, introduce young people to golf clubs, teach playing and transferable life skills and keep young people playing.