Golf is a game renowned for its skill, power and integrity. We offer two programmes designed to get children and young people started.
In association with The Golf Foundation Tri-Golf and StreetGolf were developed to introduce and then advance the basic playing skills – putting, short game, long game, course play and the golfer's code.
The Golf Foundation offer coaching and training. Their approach is based on the belief that children and young people are able to develop playing skills and personal skills which will benefit them for the rest of their lives. For more information visit The Golf Foundation website.
Perfect for primary classes
A 'mini' version of golf specifically for use by young children in primary and junior schools. Our specially designed equipment has proved to be popular with children, affordable for schools and easy for teachers to use. Resources giving ideas for games and activities linked to the National Curriculum are included. 
Is fun, inclusive and able to engage pupils of all abilities
Can be a high energy game that helps with PE and fitness
Actively promotes honesty, and respect amongst its players developing good behavior. 
Can be played in a variety of places at school, offering flexibility in PE lessons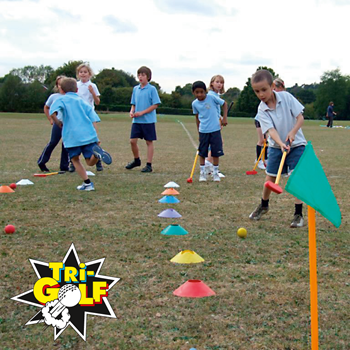 StreetGolf has been designed to bring golf to young people regardless of their access traditional facilities and is ideal for use in urban or inner city environments. Young people are encouraged to make use of everyday equipment to make sessions different and challenging. 
Is portable and versatile to make the most of the space that is available
Encourages young people and previously disengaged young people to participate in sport
Is competitive - individual and team games that develop sportsmanship
Can be high energy and fun