The Maypole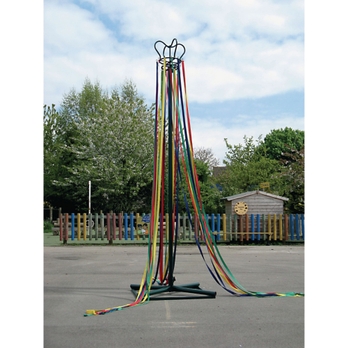 The Maypole
PDMP06989
Direct Delivery – up to 4 weeks Delays Possible Due To COVID-19
Our Maypole has been used in hundreds of primary schools and organisations across the UK for over 60 years. The pole is supplied in two sections making transporting and storage so much easier. It is possible to transport the maypole in a car (the largest section is the base which is 95cm squared).
The multifunctional design of the crown means you can choose if your want the top and lower rings fixed or rotating allowing you to operate the maypole in many ways, create many different patterns and perform many dances.
• Suitable or indoor or outdoor use.
• 24 braids (supplied in blue, yellow, red and green) allow for 24 dancers.
• Steel base with a heavy green MDF board for extra stability.
• Powder coated in forest green
• Assembled dimensions: H3.66m x W95cm.
• Warning!: Not suitable for children under 3 years. Risk of strangulation. Use under adult supervision.