Action Kids 600 Activities Teaching Manual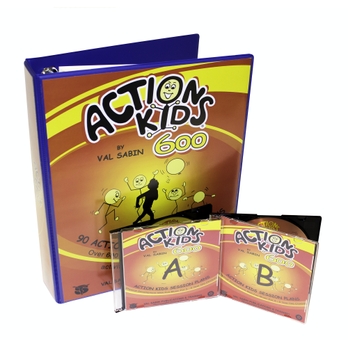 Action Kids 600 Activities Teaching Manual
PTRP06578
Direct Delivery – up to 7 days
Product Description
These ACTION KIDS session plans are specially designed for regular use in nurseries and reception classes of 3 to 5 year old children. Presented in a user-friendly format as easy-access cards. These fun physical development activities form a progressive and developmental programme together with accompanying music.
There are over 600 activities in the session plans which enable children to experience a very wide range of physical development opportunities. The activities promote the development of locomotor skills, manipulative skills, physical fitness, co-ordination and balance in enjoyable ways. Selected for body and mind development through fun, the activities lead to games, gymnastics, dance, spatial awareness and include sections on parachute games and responding to sound and music.
Over 90% of the early learning goals can be accessed directly or indirectly through the Action Kids physical development with fun activities which integrate most of the senses and develop learning strategies and patterns for later successful academic achievement.
There are also many opportunities for children to increase their listening abilities, concentration and comprehension as they experience feelings of success and achievement designed into the sessions, thus forming the foundation for a child's later ability to abstract, generalise, analyse the surrounding world, communicate with others and develop emotionally in positive ways.
• 90 Session plans.
• 76 tracks over 2 CDs
• 600 activites.
• 248 pages.
• Printed on card for durability.
• Includes hardback ring-binder.
• Age suitability: 3 years +.