New Age Street Bowls Bag Set
Pack of nine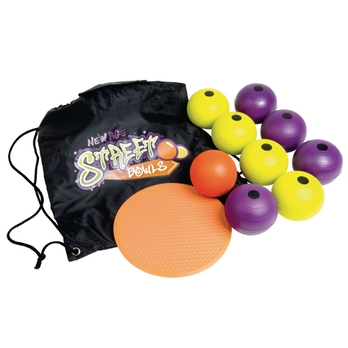 New Age Street Bowls Bag Set
Pack of nine
PBWP07448
Product Description
New Age Street Bowls are made with an innovative durable material and can be played on grass, tarmac, driveways, even tennis courts. Shaped exactly like traditional bowls, but much lighter, the game encourages skill and technique to beat your opponent. The set contains:
8 Balls, 4 Yellow and 4 Purple.
1 Jack (Orange)
1 Textured anti-slip foot mat.
• Rubber.
• Includes drawstring bag.
• Diameter: 11cm.
• Warning: Not suitable for children under 3 years. Risk of strangulation.