Medium Kwik Cricket Set - 8-11 Years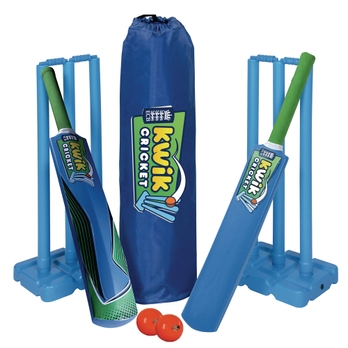 Medium Kwik Cricket Set - 8-11 Years
PCKD76917
Product Description
Kwik Cricket is a simplified game of cricket for all boys and girls. It has been designed as an alternative to traditional equipment to allow the game to be played safely on any flat surface either indoors or outdoors at any time of the year. Introduced by the Test and County Cricket Board and the National Cricket Association. Light enough for small hands yet extremely tough and durable. Each set includes:
2 bats
2 balls
2 stump bases
6 stumps
1 holdall
• High quality moulded plastic.
• Bat size: Medium (62cm)
• Wicket height: 77cm approx.
• Use under adult supervision.
Kinder Set- suitable for ages 3-5
Small Set- suitable for ages 6-8
Medium Set- suitable for ages 9-11
Mixed Set contains 1 small and 1 medium bat.