60mm Wheelaway Portable Steel Goals - Junior 6.4 x 2.1m - 137kg
Pair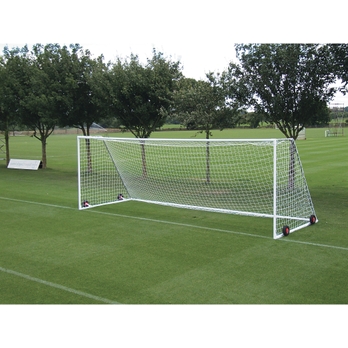 60mm Wheelaway Portable Steel Goals - Junior 6.4 x 2.1m - 137kg
Pair
PFBD59518
Direct Delivery – up to 2 weeks
Product Description
This portable yet sturdy goal has fully welded crossbar corner joint provides strength and added safety. Its ideal for 9v9 and 11v11 matches for children aged 10-14.
• Suitable for artificial surfaces- features steel protective footplates.
• Polyester powder coated.
• Includes 4 peg anchors and wheels per goal.
• Uprights & crossbars made from 60mm diameter x 4mm steel.
• Stainless steel external bolts.
• Total weight: 137kg.
• Dimensions: 6.4 x 2.1m.
• Nets sold seperately.
• Use under adult supervision.
Safety and Maintenance guidelines:
Freestanding goals must be anchored.
Always follow assembly instructions and required number of people.
Metal cup hooks MUST NOT be used.
Check equipment regularly and before every game.
Treat chips and scratches to prevent corrosion.