Harrod Fold-Away Five-A-Side Steel Posts - 2.44 x 1.22m. Weight: 58kg
Pair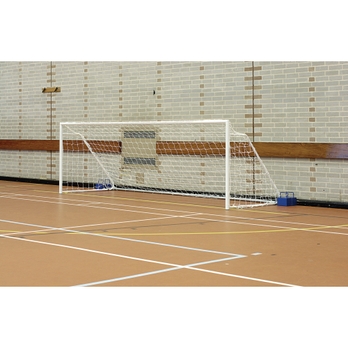 Harrod Fold-Away Five-A-Side Steel Posts - 2.44 x 1.22m. Weight: 58kg
Pair
PFBD91979
Direct Delivery – up to 2 weeks
Product Description
Folding goal designed specifically for school and sports halls.
• Button clip mechanism allows net supports to fold away for easy storage.
• Portable and free standing with mitred crossbar joints.
• 50mm x 2mm tubular steel
• 25mm x 2mm net supports
• Polyester powder coated.
• Net supports fold away.
• Pads prevent floor damage.
• Net supplied separately.
• Side frames lock in the play and folded positions for added safety.
• Dimensions: 2.4 x 1.2m.
8 x ANC-005 Counter balance weights with fixings are required per set of goals for secure anchorage (4 per goal).