Fitness Mad Warrior II Yoga Mat, Light Blue - 4mm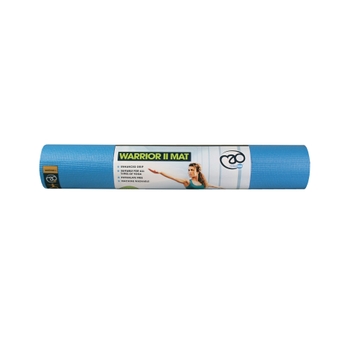 Fitness Mad Warrior II Yoga Mat, Light Blue - 4mm
PHFP07930
Product Description
The Warrior II yoga mat offers good cushioning and fantastic value for money. Also great grip, is phthalate free and comes in an exciting range of colours. 4mm is the most popular thickness of yoga mat for regular yoga practice and at 18.3m (6ft) long you'll stay on the mat.
• Dimensions: 18.3m x 0.61m x 4mm.
• Weight: 1.1kg.
• Colour: Light Blue.
• Material: Phthalate free PVC.
• Care Instructions: Can be wiped clean or can be machine washed at 40°C using a small amount of soap. DO NOT put this mat through a spin cycle or spin dry as this may damage the mat. Dry flat or roll up in a towel to speed drying time.
• To optimise slip resistance, please wipe with a damp cloth and towel dry before first use.
• Phthalate and Latex Free PVC Tested as free of harmful substances to Oeko Tex Standard 100 Class II.