Harrod 3G Weighted Portagoal - Junior
Pack of two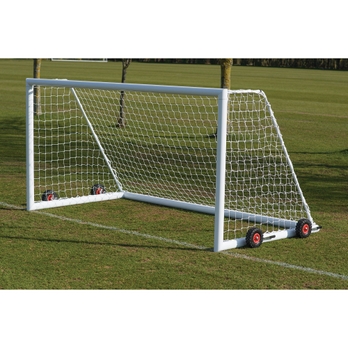 Harrod 3G Weighted Portagoal - Junior
Pack of two
PFBP09840
Direct Delivery – up to 7 days. Note: Delays Possible Due To COVID-19
Harrod UK were the first company in the UK to design and manufacture a unique range of integral weighted goals for football.
This market leading concept has now been widely adopted as the industry preferred method for all aluminium freestanding goals.
Completely safe to use at all times, eliminating the users responsibility of attaching separate anchorage. Each set consists of:
4 Uprights,
2 Crossbars
4 Sidebar
2 Backbars
4 Net Support,
8 Hi-Raise Wheels and Brackets
2 Ballast Boxes
4 Weight Rods
200 Net Hooks
All Bolts & Fixings.
• Aluminium profile backbar with integral weight insert and ballast.
• Hi-Raise wheels for manoeuvrability on both grass and synthetic surfaces.
• Fully welded corner joints provide superior strength and added safety.
• Reinforced aluminium crossbars, sidebars and backbars.
• Full length net supports.
• Nets sold seperately
• Weight:391kg.
• Use under adult supervision. Follow manufactureres instructions.
• Junior size: 6.4m x 2.13m